A fellow blogger, Lainy from Lainy's Musings invited me to participate in a new meme entitled Saturday Saved- The Best for Last.

I was not able to join the first round last week but I promised her that I will participate in this week's round. I think this is a brilliant idea and an opportunity for us to showcase our articles that we think deserves wider readership. The good thing about this meme is we can feature articles from our archives.

This week's featured article is my trip to the Snow World at Star City.



One of the major attractions inside the Star City is the Snow World where you get to experience winter in the Philippines. It's like entering a giant freezer with about 15 degrees Celsius below zero temperature. Based on press releases, it is one of the biggest man-made snow attractions in the world.

Well, I didn't want to miss the experience so I took a peek inside and I can tell you that it's worth it.

They will let you use jackets but there are also cold weather gears that are being sold at very high prices. Then one of the staff will give you directions on how to behave inside, before they open the door.

As expected, you will see snow everywhere inside. At least, this is the closest that you can get for a winter experience. On the left hand side, you will see different ice carvings and sculptures which were all magnificent. Just make sure that you don't get too excited and break any of the ice sculptures as it could cost you P500.

On the right hand side from the entrance, you will see the ice slide which I read was the longest ice slide in Asia. Donna's nephew and I tried it and it was a great deal of fun.

We didn't last longer than 10 minutes as Donna's nephew can no longer endure the cold temperature. We were practically pounding the closed door of the exit area just to get out. My fingers were getting numb and my nose felt that it's about to bleed.

One word of caution though, the snow is slippery and the flooring is so hard that in case you will slip off the snow, it will surely be a painful thump.

It's unfortunate that taking pictures with your digital cameras or cell phones are not allowed inside. They let you bring your gadgets with you in a plastic bag but you are not allowed to use it. I also didn't want to risk violating the rule and end up with a malfunctioning digital camera. However, they have a photographer stationed inside so anytime you want to have your photo taken, you can simply approach him. Of course, you will have to shell out more money, hehehe.

We had to enter the second time to have this souvenir photo taken.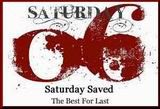 You're invited to join Saturday Saved – The Best For Last. Showcase the Post you prefer for more readership. Grab this code at [[ WmotH ]] Saturday Saved-The Best For Last is meant for Saturday Saved participants only
Please enter the your Saturday Saved Post URL by clicking on Master Linky Banner below.